Home

/

Organic Sencha Japanese Green Tea Powder
Details
Organic Sencha
Green Tea Powder

Organic Sencha green tea powder conveniently dissolves in either hot or cold water with light stirring. Its dark green liquid tastes very similar to a good quality Sencha loose leaf tea. Organic Sencha is 100% Shizuoka organic green tea powder packed in a re-sealable foil package to maintain freshness. It is ideal for use at home, work or on-the-go. Organic Sencha green tea powder has been produced according to the strict guidelines of the JAS (Japan Agricultural Standard) and is certified organic.
40 grams (1.4 ounces)
Makes 40 100 ml servings of tea
Instructions: Add approximately one gram of powder to 100 ml of water and stir. A measuring spoon is included.
Japanese Tea Infusion Time


Shipping & Delivery

Free WorldWide Shipping is effective for all orders of $40 or more. Orders of less than $40 will be billed a flat rate of only $5.00 for shipping and handling. Most of the U.S. orders arrive within 5 days. ( International within 10 days )

We regularly use the USPS, Japan Post and UPS.
These shippers are highly efficient and we rarely have problems with them.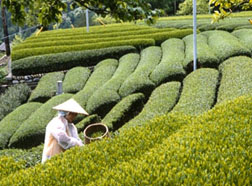 Japanese Green Tea
Product Safety
For two consecutive years the Shizuoka Prefectural Government has contracted a certified independent agency to test in its own laboratory green tea harvested from all parts of the region for radiation. In both instances all the samples tested safe for human consumption in accordance with USA (USDA), European Union, Australian and Japanese government standards. No unsafe tea has ever reached any consumer.
With the health and well being of consumers in mind, the Ministry of Health, Labor and Welfare of Japan strengthened safety standards for the 2012 crop. The report "Results of Tests for Radioactivity of Tea Produced in Shizuoka Prefecture in 2012" is available for your viewing at the link below. The samples tested were for "brewed tea" which is the state it is actually consumed. The test results for all the samples were the same. Radioactive Cesium 134 and 137 were "N.D." (Not Detected). Shizuoka green tea has once again been certified to be absolutely safe for your consumption and enjoyment.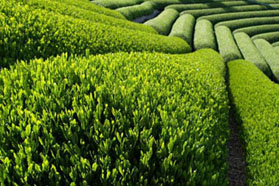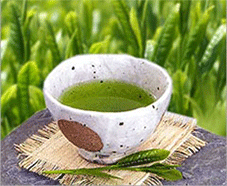 Customer Service:

Our Email Address:

Telephone:

USA Office: (1) 909-598-9255
Japan Office: (81) 54 200 0625